Since the Winter '09 update, I've been heavily involved with things like Evolith, Synergy, and new NM's. A lot of people haven't touched this content, or have a difficult time understanding it, but I've made this guide to condense the information together, and hopefully it can be of some help.
Winter '09 Update - New Content
(new crafting system, new augment system, new gear, and new NM's)
(
Browse...
Collapse
)
So I want to start out by showing the new gear they've come out with. Might as well see what you can gain from the system before you take the time to learn about it, right? After that I want to explain how making (synergizing) the gear works, since it can get a little complicated. Then, how and where to get the evoliths, and then I want to explain how to make sense of all the shapes/elements that they come in, since this also seems complicated at first (it's not as complex as it seems). And lastly, we should take a look at all the new NM's.
---
New Gear
The Ebon/Furia/Ebur Sets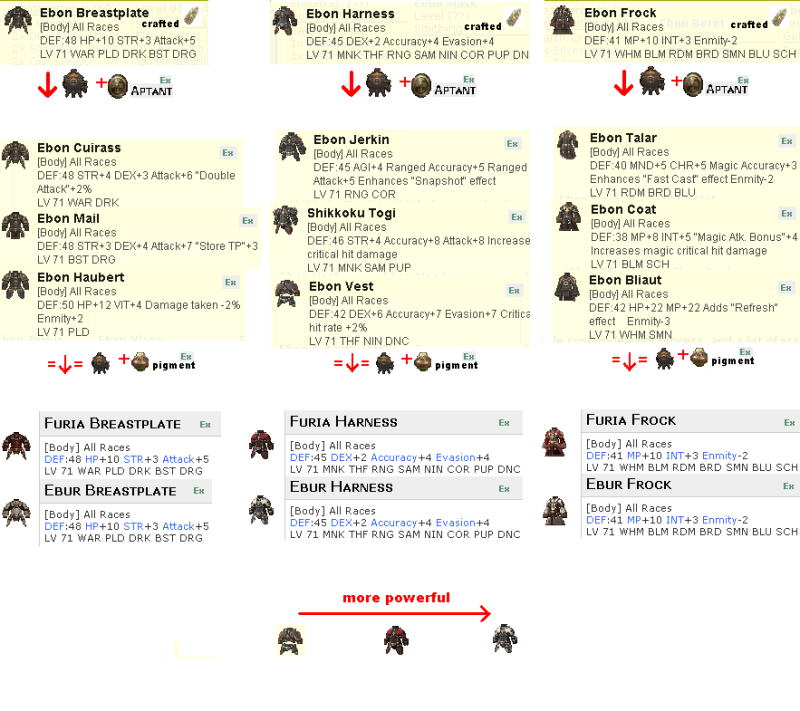 (
Read more...
Collapse
)
---
Synergy
What is Synergy?
Synergy is a new form of "crafting," only it's not based on crystal synthesis. You use instead a "
synergy furance
" found in public locations, or your own summoned "
portafurance
." The uses of synergy include new recipes (not many) including new "ebon gear" and "aern weapons", new HQ tiers for some stackable materials, and the addition of evolith to items.
(
Read more...
Collapse
)
---
Evolith System
The
Evolith
system involves using a system called the "
hunt registry
" to sign up to kill a specific NM; And, on kill of that NM, you are 100% gauranteed an evolith of a pre-determined type, though the potency on the piece is random.
(
Read more...
Collapse
)
---
New NM's
(
Read more...
Collapse
)